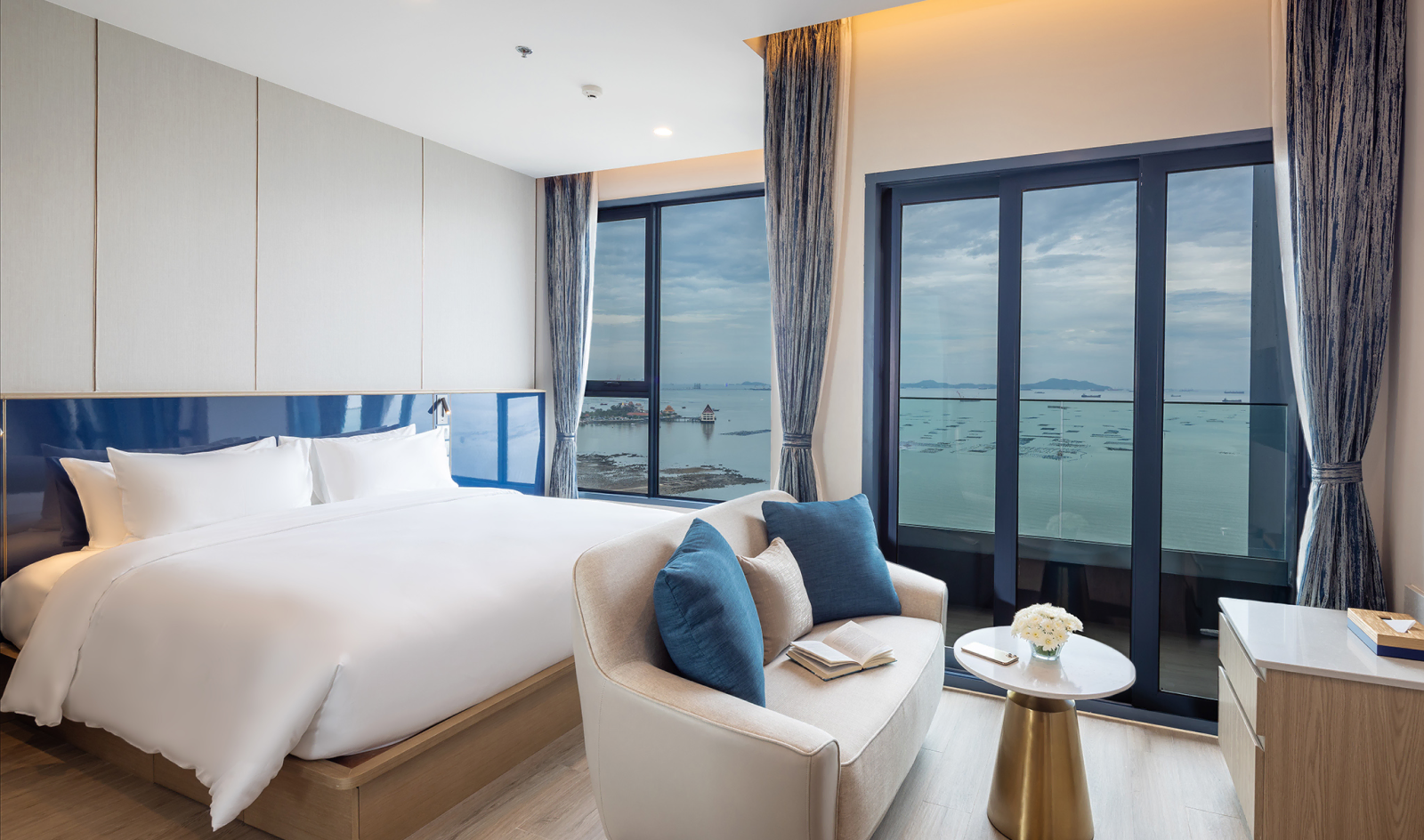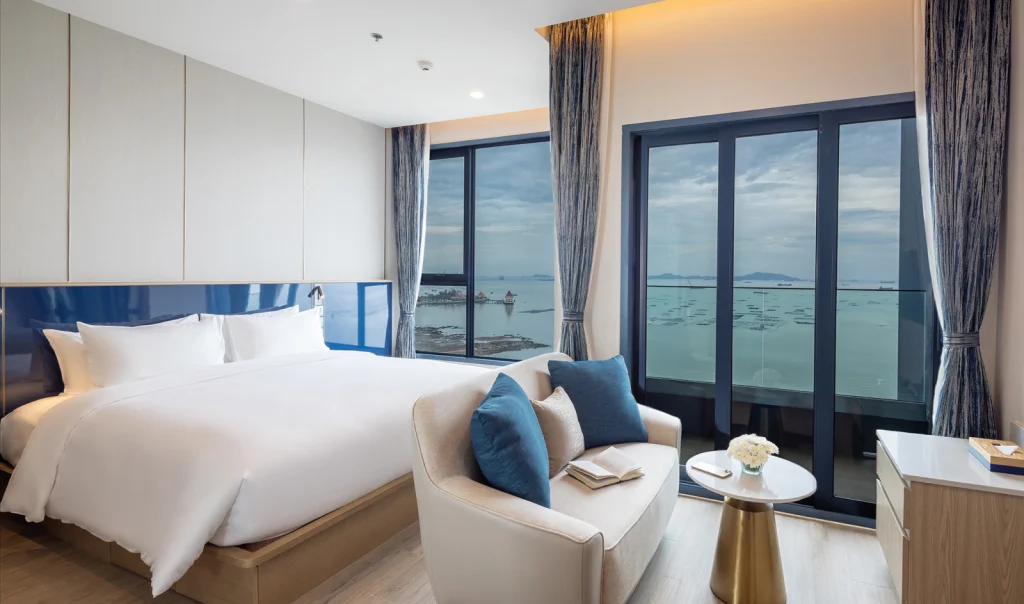 Enjoy a Cozy Stay in the Deluxe Room of Our Hotel in Sriracha
Do you delight in intimate spaces? Then our Deluxe Room is perfect for you. Our cozy 33 sqm suite faces the ocean so you can be greeted with magnificent views of the sea the moment you arise. The place where life meets living, everything you will need is in this room. Apart from the queen-sized bed, this room features a bathtub, a hairdryer, a safe, an iron and ironing board, a washing machine with a built-in dryer and a designated storage for golf equipment for your use. The room also has a kitchen area. This space is equipped with a large refrigerator, a microwave, a kettle, an induction stove and range hood, and chinaware for two in the cupboards.
Dwell in Total Comfort in The S. Sriracha Hotel One Bedroom Suite
Our One Bedroom Suite is a gorgeous 46 sqm space that features tall floor-to-ceiling windows, a sumptuous queen-sized bed and ample storage space to tuck away all of your belongings and keep your surroundings looking neat and pristine. There is a living room area with a comfortable sofa and large flat screen TV that opens into a balcony with stunning views of the azure sea and bright Pattaya sky. The designated kitchen area highlights a large refrigerator, an induction stove with a range hood, a sink, a microwave, and even more storage space for the complimentary chinaware provided to make your stay hassle-free. This room type also features a vanity area and iron and ironing board near the wardrobe, along with a bathroom with a hair dryer for your grooming needs.
Family and Friends Take Pleasure in Our Two Bedroom Suite
If you are visiting our hotel in Sriracha with a big group of friends or your family, then our Two Bedroom Suite is the perfect option for you. Spoiled for choice, you have bedrooms with views of the refreshing Sriracha mountains or the breathtaking Gulf of Thailand in this corner unit. Each bedroom boasts a large bedroom, a wardrobe, a flat screen TV, and a vanity area with tall mirrors. The living space opens up to a balcony that faces the beautiful ocean. Our suite also features a table area near the living space where up to four guests can choose to dine or enjoy wonderful conversation during their stay. The kitchenette has a large refrigerator, a microwave, an induction stove and range hood, a kettle, a sink, and enough chinaware for everyone staying in the suite.
The Best of Both Worlds with Our Two Bedroom Executive Suite
Our Two Bedroom Executive Suite is distinguished by the ample space it provides. There is 75sqm fitted with discreet storage space and minimal interior design at your disposal during your stay at our contemporary oasis by the sea. The ocean-facing balcony provides abundant sunlight for the room, boasting brightness for the living space with a comfortable sofa and large TV as well as the dining area with room for four people. The kitchenette area has a spacious fridge, an induction stove and range hood, a large sink, a microwave, chinaware and a kettle for your hot beverage needs. The primary bedroom highlights a sumptuous queen-sized bed and tall windows with views of the Gulf of Thailand. The secondary bedroom boasts beautiful views of the invigorating mountain range of Sriracha. This unit also features an air purifier to keep the space smelling fresh and the air clean.
Delight In the Luxurious Penthouse at Our 5-Star Sriracha Hotel
The Penthouse at our hotel in Sriracha is truly magnificent. It boasts tall ceilings with a sparkling chandelier, two floors, and luxurious marble as far as the eyes can see. The kitchen area is equipped with an oven along with the induction stove, microwave, kettle, refrigerator, sink and beautiful chinaware. There is plentiful storage for all of your belongings, even a special stowage to tuck away golf equipment. This spectacular unit is a one-of-a-kind luxury experience that offers the best of Sriracha and contemporary living with unforgettable ocean views. Experience ultimate indulgence where the sky, sea and sand meet at S. Sriracha Hotel & Residence.
Experience The Exclusive Services at Our Oasis Where Life Meetings Living
At our modern seaside resort, you will want for nothing. Our front desk is manned on a 24-hour basis. We have Japanese-speaking staff. Housekeeping and laundry services are provided for our residents along with high speed WIFI, a fully equipped kitchen, a washer and dryer in each unit, a hairdryer, toiletries and towels. We even ensure the utmost comfort of our guests by having special Wellness Duck Down Pillows in all of our rooms as well as state-of-the-art washlet toilets. Our breakfast buffet is served at S. Signature is available as early as 5AM as a nod to Japanese culture and their healthy habits. As an optional service, we can even provide your room with Japanese TV programs through Record TV. Everything you could need is thought of and at your disposal at our 5-star hotel in Sriracha. Come experience where life meets living. Get in touch with our Guest Experience specialists at info@ssriracha.com or +6638183888.