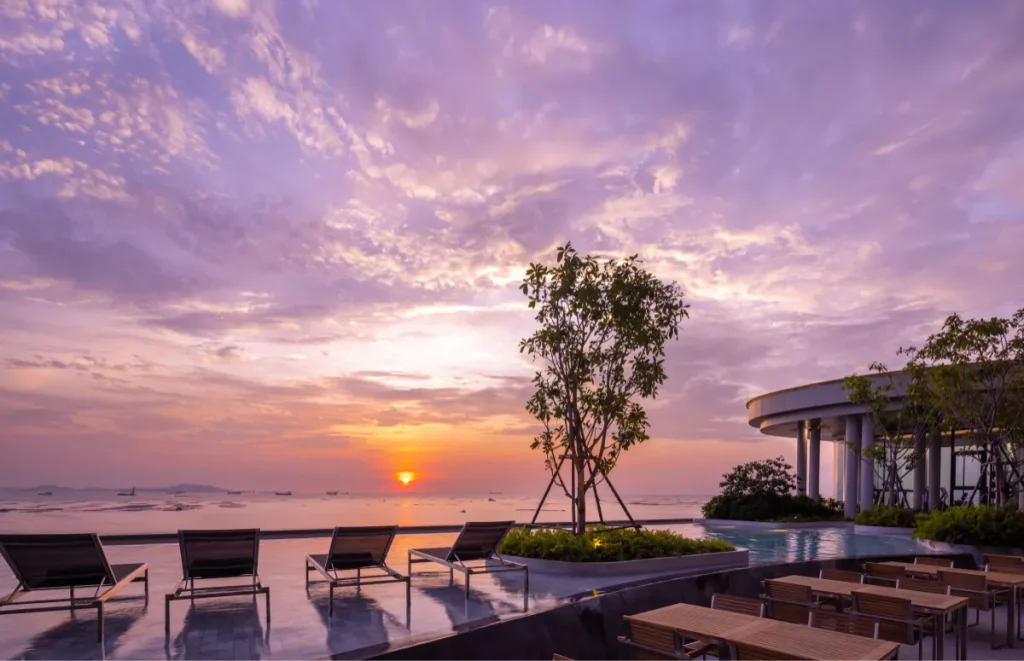 In respect to our time-honored adage of being the place where life meets living, S. Sriracha Hotel & Resort seeks to satisfy all aspects of modern living in one vast space. To achieve that, we have made sure to equip our luxury hotel by the sea with an array of exciting facilities and amenities to keep our faithful patrons engaged and fulfilled during their stay at our ultramodern resort in Sriracha.
Happy Home Kid's Club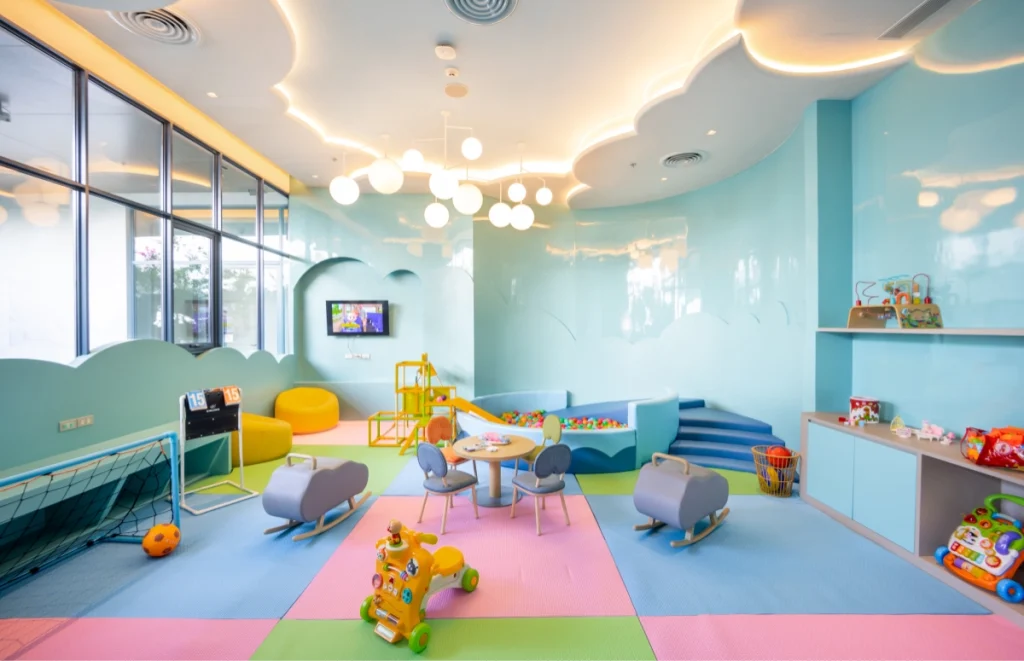 The Happy Home Kid's Club at S. Sriracha Hotel & Resort is equipped with educational toys and books to foster a sense of imagination and creativity among the little ones that visit our resort in Sriracha. Not only do we care about entertaining your children, we want to ensure that they are having fun in a way that is enriching to their growth. Happy Home has a vast collection of traditional toys from different countries around the globe as well as an impressive selection of multilingual books to help encourage learning and the development of secondary language skills in your child.
Fitness Center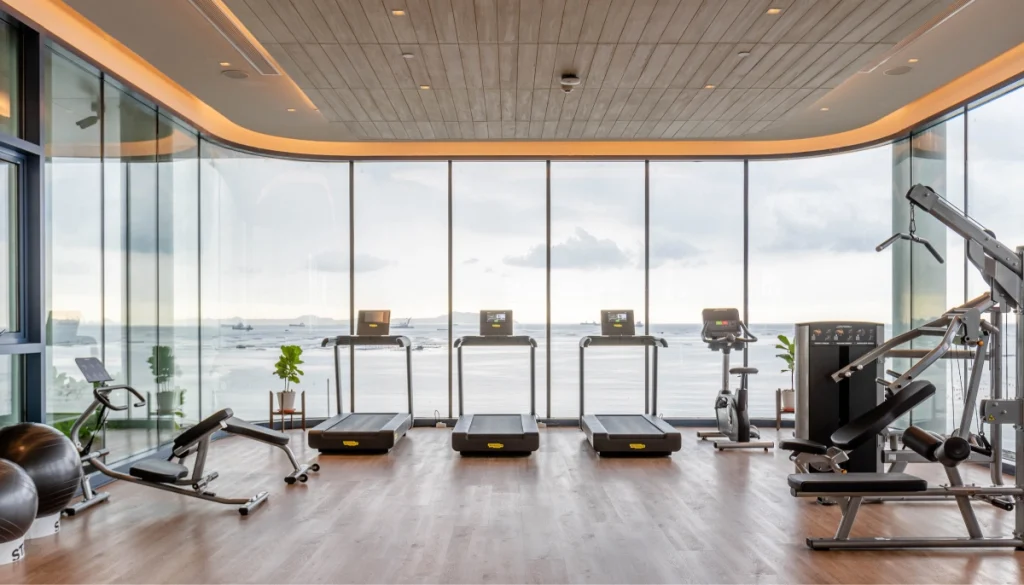 Health is wealth as the saying goes. We at S. Sriracha Hotel & Resort understand this well. At Fit Horizon — the Fitness Center in our Sriracha resort — we provide free fitness training along with state-of-the-art workout equipment for our patrons to use. Keep up with your health and wellness in style at our sleek gym where we have structured the room specifically so that our guests receive a 180-degree view of the gorgeous ocean waves at our unique seafront property. Whether you are running on our treadmill in the morning or ending the day with relieving yoga stretches at night, at Fit Horizon, you will always be provided with a view of where the breathtaking sky meets the majestic sea.
The Library Lounge
Whether you want to catch up with work, conduct a video conference or simply read a book in peace while on holiday, the Library Lounge is the ideal place for you. Experience total comfort and tranquil silence in our modern library with floor-to-ceiling windows that face a sensational view of the nearby mountainscape. At our elegant sitting room, guests can also organize small meetings. The quiet space can be used as a meeting room with the capacity for up to 10 people. Enjoy productive discussions with your team with an awe-inspiring mountain view as your backdrop. There is no better place to have conversations at our luxury resort in Sriracha.
Infinity Swimming Pool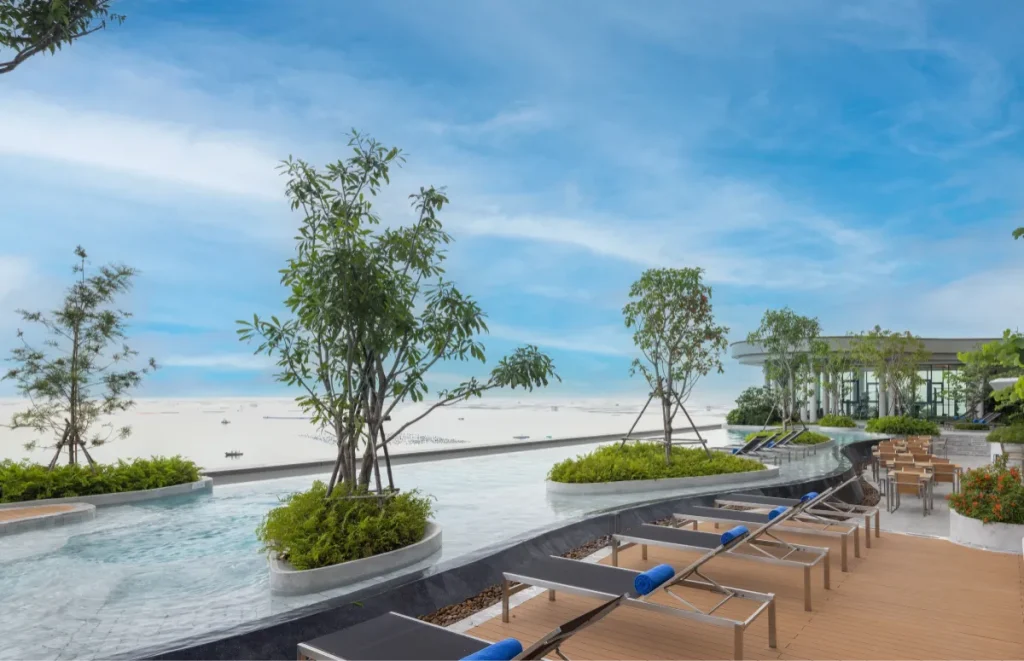 Pressed against the very edge of our high-rise oceanfront paradise, our infinity edge swimming pool boasts an unbeatable view of the vast azure sea. Located on the 3rd floor of stylish Sriracha resort, it offers the best of both worlds for those who want a soothing dip in warm waters without leaving the comfort of our contemporary haven. We also provide in-pool lounge chairs for those who want to sunbathe in style. You can enjoy working on your tan knowing just a few steps away from you is our trendy Skyline Pool Bar. Indulge in delicious snacks and refreshing mocktails while you bask in the warmth of the golden sun. It is the ultimate bliss at our lofty oasis where you can enjoy the trickling sound of water spilling over the edge of our pool and surrender to the sense of calm it provides as you look out into the sublime blue waters of the Gulf of Thailand.
Soul Spa & Onsen
Envisioned by a Finnish designer, the Soul Spa & Onsen at our resort in Sriracha uses authentic birchwood and is inspired by traditional bathhouses in Japan. As per tradition, dry rocks sit on top of heating and warm up the stones of the spa, radiating a comforting warmth inside of the sauna for its visitors. This creates a calming atmosphere for those within its walls. In this peaceful sanctuary, you can choose to relax in silence or to engage with those around you and thoughtfully discuss your shared desire to ease the body and mind of its tensions.
Health Massage by Veni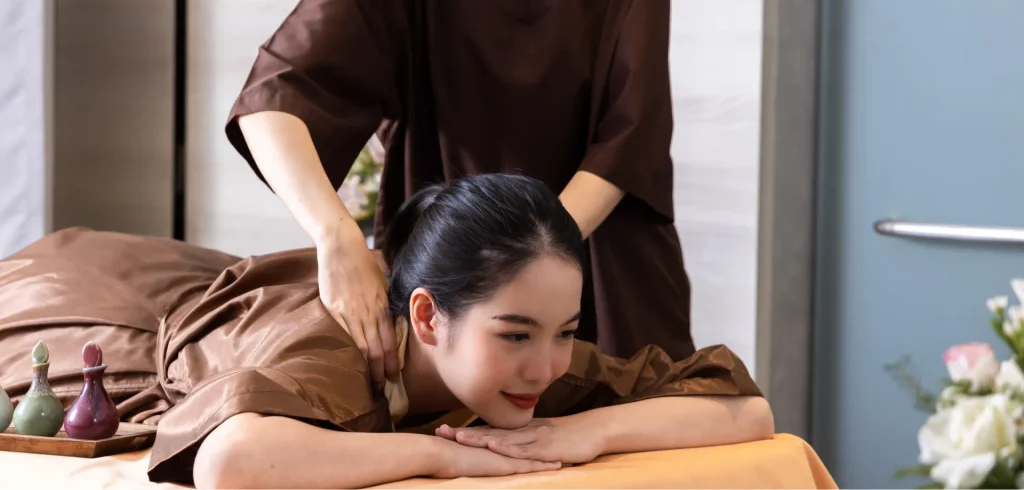 It is our desire that guests experience total tranquility when they visit our chic beachfront escape. Indulge in pure relaxation at the hands of our skillful massage therapists. We offer a variety of spa treatments with the purpose of whisking our patrons away to a blissful state of mind — free of any and all worries. Emerge from our serene resort feeling rejuvenated and refreshed, at ease with yourself and totally replenished at your core.
Retreat To Our Idyllic Resort in Sriracha
Discover that there is more to life when you focus on living within the walls of S. Sriracha Hotel & Resort. Get in touch with our guest experience agents at rsvnmgr@ssriracha.com or +6638183888 and arrange a relaxing stay at our unique 5-star property by the sea today.