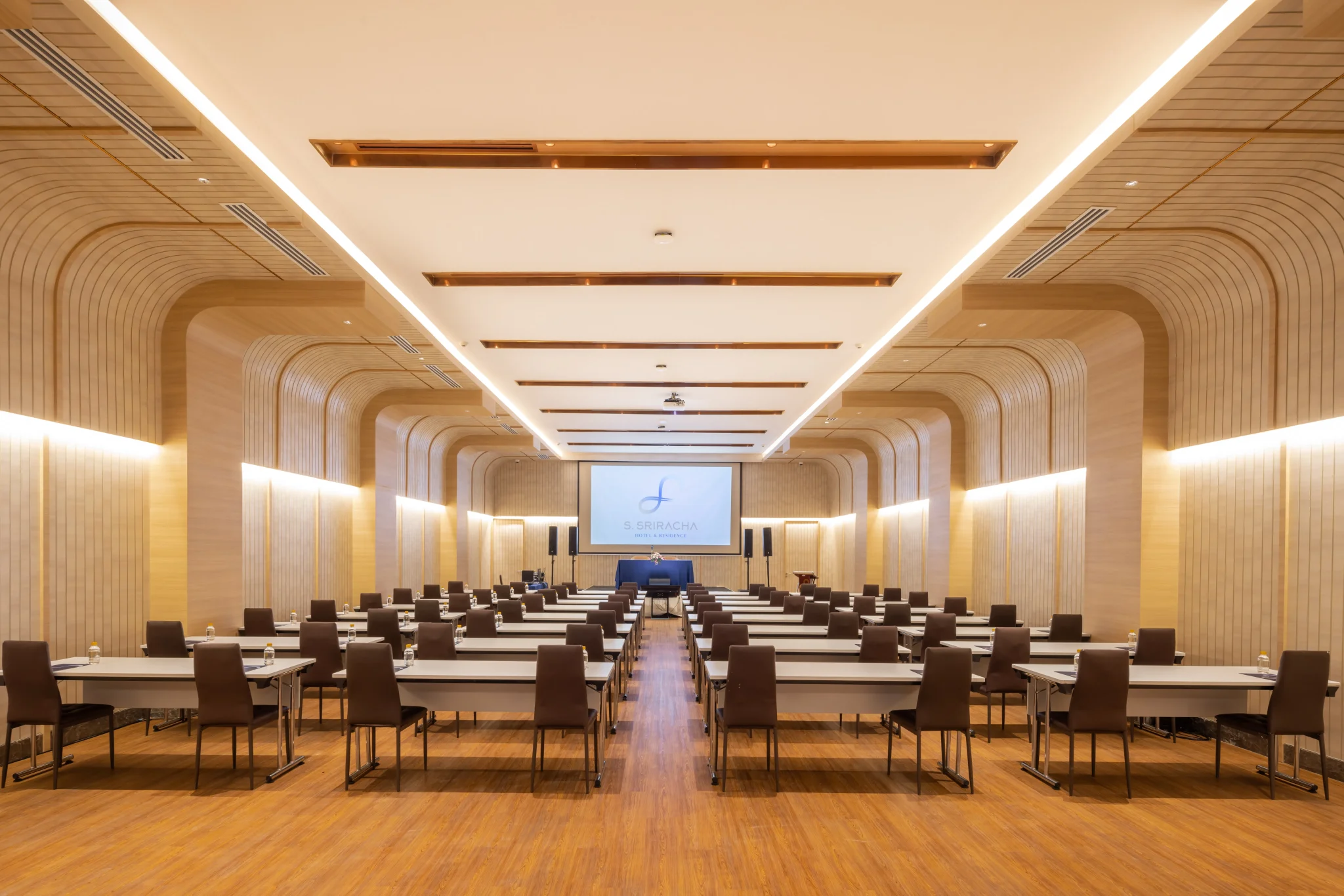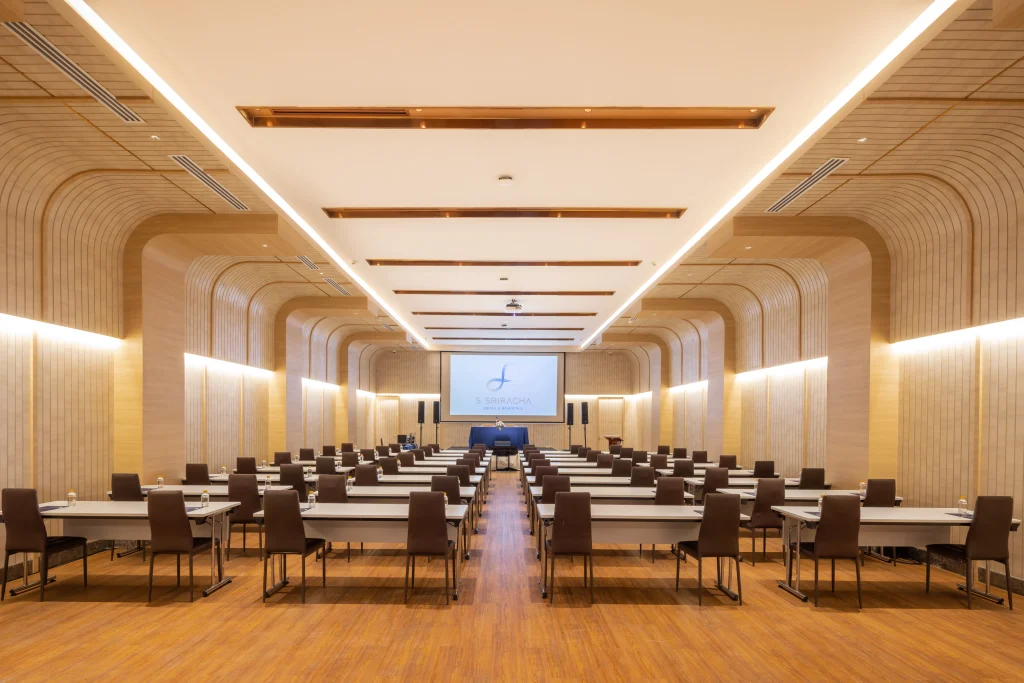 A boat-shaped building just a short walk from our lofty 5-star hotel in Sriracha, 'The Cruise' is our multi-purpose venue that offers impressive flexibility to cater to a diverse selection of social events if you'd like to have a meeting in Sriracha. Its contemporary interior design pulls inspiration from the Japanese concept of 'Shirin-Yoku'. This Japanese word translates to mean 'forest bath'. It encourages the practice of mindfulness around nature. By taking inspiration from this concept in our interior design, we hope to relieve stress and anxiety in our clients and boost their creativity so they can conduct endlessly productive meetings in our wonderfully versatile space.
Space Dimensions:
Height — 4.35m
Width — 10m
Length — 20m
Explore Our Corporate Event Packages
There is no denying that The Cruise functions as the perfect venue for intimate business meetings and social functions across a variety of layouts. Incredibly spacious and delightfully minimal in design, it has garnered much popularity with our corporate guests from Japan and the nearby industrial estates in Sriracha. Eager to anticipate all guests' needs, S. Sriracha Hotel & Residence has recently introduced corporate event packages at our modern event space to accommodate this rise in demand. Fully equipped with state-of-the-art audio-visual equipment and on-site catering, The Cruise is designed to adapt to a vast assortment of professional business requests. Whether it's a convention for hundreds or a board meeting for a handful, climb aboard the Cruise for an effortless meeting experience.
Layout Type & Guest Capacity:
Theater — 150 pax
Classroom — 120 pax
U-Shape — 60 pax
Banquet — 100 pax
Theater Layout
The Theater Style seating layout is when chairs are arranged into rows, arcs or circles that all face the same direction in a venue space. No additional furniture (such as tables or desks) is present in theater style seating beyond the chairs, just like it is when you are seated in a movie cinema or performing arts theater. This style is most commonly chosen for events such as conferences, lectures, presentations, wedding ceremonies or product lunches if you'd like to have a meeting in Sriracha.
Classroom Style Layout
The Classroom Style seating arrangement is most effective and commonly used when your meeting in Sriracha wants to encourage learning amongst its attendees. This layout is reflective of seating found in schools or a lecture theater. Chairs and tables are lined in repeated rows, all facing forward towards the stage and front of the function room. With this style, it is best to limit each table to four attendees and create a space of at least three feet between each set of tables.
U-Shape Layout
The U-Shape layout, or otherwise known as the Horseshoe layout, is a seating arrangement that best benefits an event wherein the guests are encouraged to see each other at all times and can effortlessly interact with the function's speaker. It is an ideal seating layout for team meetings, work lunches, presentations, and workshops. Should you want to host something that requires dialogue between a large group that wants to collaborate and share ideas, this is the recommended seating arrangement to use in your event space.
Banquet Layout
The Banquet Style seating layout requires the use of round tables scattered evenly throughout the event space. Typically, each round table sound accommodates between 8-10 people. You will commonly see this layout used during weddings or meetings in Sriracha that are more social such as parties, award shows, banquets, or charity events. This seating style makes it easy for guests to socialize and network. When doing this seating style, it is best to have a general understanding of your guest list and group people according to shared interests or common goals to encourage easy conversation.
Outdoor Event Spaces
In addition to The Cruise, our 5-star hotel in Sriracha also offers outdoor event spaces surrounded by lush green landscapes that inspire delight and excitement in our guests. Impress your attendees by hosting your special occasion with us and treating them to attentive Thai-Japanese service and the breathtaking views of picturesque Sriracha. Breathe in the fresh ocean air and delight in the invigorating breeze of our seaside escape on the east coast of Thailand. With our on-site catering and staff present to support you as you host, your event is sure to run smoothly and be one to remember in the minds of your attendees.
Experience The Cruise
Wait no longer to enjoy your meetings in Sriracha. Reach out to us today and book an occasion at The Cruise for your colleagues or friends to relish in. Simply share the purpose of your event with us and we will recommend our best offerings and special deals to you according to your needs. With our humble and efficient Thai-Japanese service at S. Sriracha Hotel & Residence, you are sure to delight in your time at our ultramodern seaside resort.