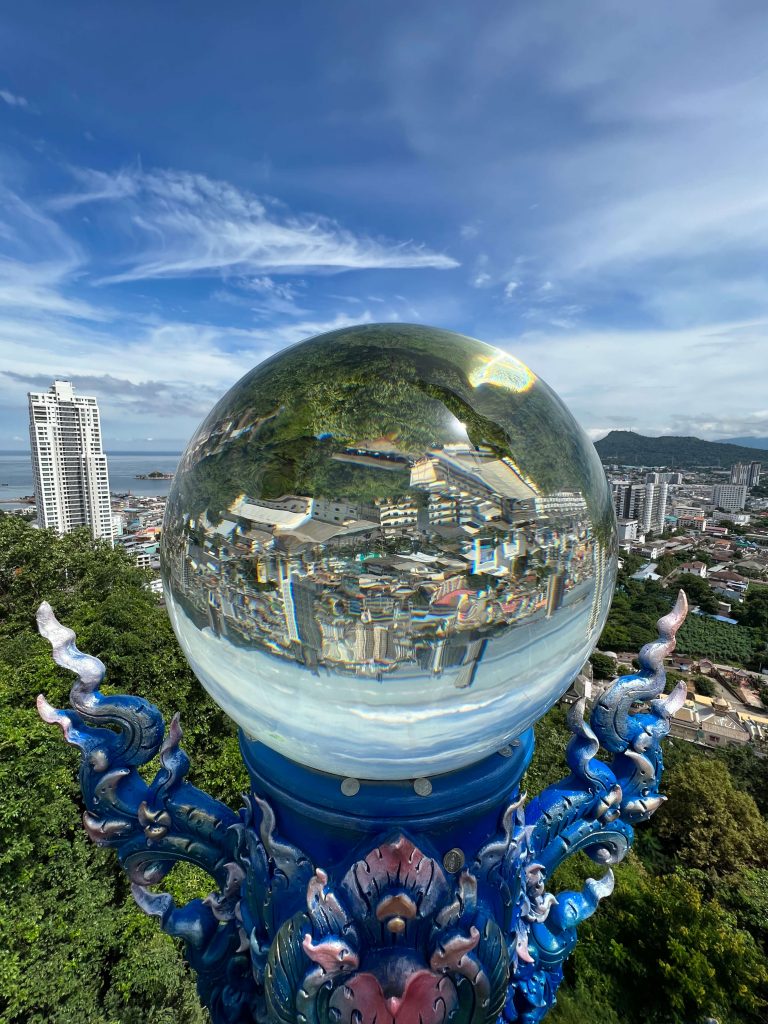 Be amazed by awe-inspiring panoramic views of our beautiful coastal city, Sriracha, at the very top of Khao Phra Khru Monastery. Under bright blue skies and billowy clouds, the view you are gifted with once you reach the viewpoint at the top of the steps makes every stair you climbed worthwhile. Surrounded by a colorful terrace and the meticulously carved serpentine Nagas that guard the temple, immerse yourself in the rich culture of the Buddhist faith when you visit this must-see Sriracha landmark. Just a 10-minute drive from our luxury hotel by the sea, it is an essential experience for those seeking to appreciate cultural heritage and the natural beauty of our seaside town.
What is Khao Phra Khru Monastery?
Khao Phra Khru Monastery is a humble but enchanting gem nestled within Sriracha's picturesque landscape. It is most notably regarded for its magnificent Buddha sculpture that stands at an impressive height of 40 feet as well as its viewpoint that provides scenic views of the entire beachside city. Upon arriving at the Buddhist monastery, you will be greeted by serene areas of prayer and meditation. There you can pay homage to the revered monks who reside on these holy grounds and partake in an exchange of culture by offering them alms or participating in a prayer. In Thailand, these are considered as ways of making merit. It is an important aspect of the Buddhist belief as they believe that if you do good in life, you will receive good in your future lives to come – and vice versa.
As you venture further into the monastery, you will eventually find yourself at the staircase that leads up to the viewpoint. Flanked on either side of the steps are dutifully detailed serpent-like statues of creatures known in Thailand as the Naga. They are vibrantly colored in shades of green, gold, and blue. In Thai culture, they are considered guardians of Buddhism, hence their presence in this monastery. Upon finishing your climb up the steps, you are rewarded with the Khao Phra Khru Monastery viewpoint. It is a colorful terrace where you can marvel at having a breathtaking view of Sriracha and the beautiful ocean it lives by. Safely protected between two Nagas, you will find the renowned crystal ball that gives you a unique inverted view of the city.
At this terrace, you will also come across the colossal Buddha sculpture that stands at 40 feet, radiating a profound aura of reverence. Surrounded by the Naga's watchful presence and the artistic grandeur of the towering Buddha, you will find yourself immersed in the serenity and culture of the Buddhist. It goes to show that visiting a religious sanctuary is more than just a tourist activity; it's a celebration of Thailand's rich culture and heritage. For those seeking a quiet afternoon appreciating fine craftsmanship and being enriched with cultural significance, Khao Phra Khru Monastery is an absolute must-visit.
What is The Naga – Its History and Significance at Khao Phra Khru Monastery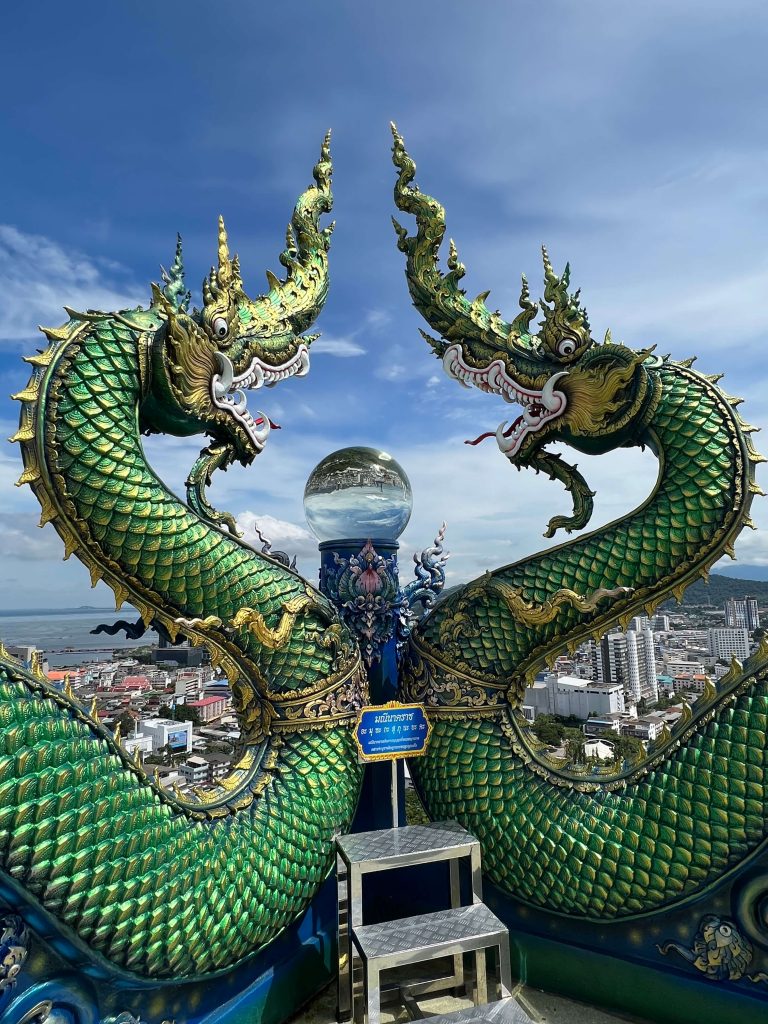 The story of the mythical Naga creature is a fascinating one. These beings are revered as the 'patrons of water'. In a religious context, they are seen as spiritual entities responsible for protecting and overseeing water-related domains, including vast bodies of water like the sea. Legends suggest that Nagas inhabit the depths of lakes, rivers, and even caves. According to local folklore, it is even believed that the two Naga kings slithering through Southeast Asia are responsible for the creation of the Mekong River and the nearby Nan River.
As of November 22, the Thai government officially designated the Naga as the national symbol of Thailand. This decision was done to enhance the nation's cultural heritage and promote the creative economy by celebrating Thai culture and their ancient traditions, as the mythical Naga has deep-rooted beliefs and connections with the Thai people. In our culture, the Naga is a symbol of water and fertility, serving as a protector of Buddhism. This national recognition reaffirms the enduring cultural and spiritual importance of the Naga in Thailand.
Visit Khao Phra Khru Monastery When You Stay with Us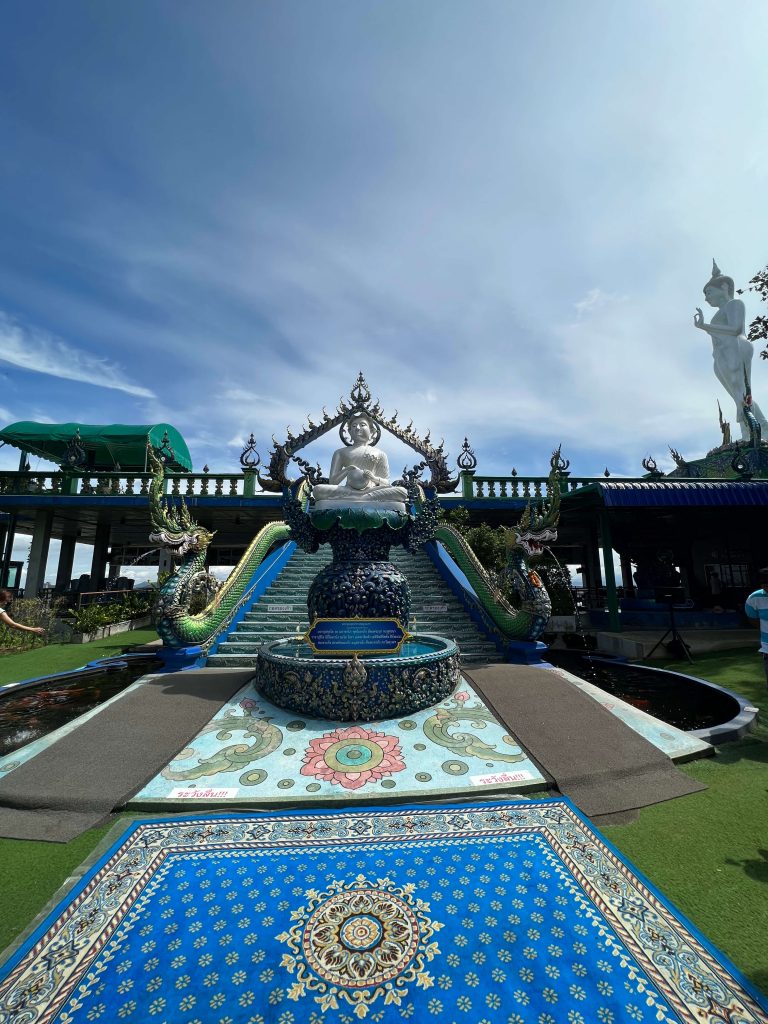 Our luxury oasis by the sea, S. Sriracha Hotel & Residences, is centrally located at the heart of Sriracha. When you stay with us, every exciting place of interest in Sriracha – such as Khao Phra Khru Mastery – in our coastal city is never too far away. To experience the most when staying at our coastal getaway, get in touch with us at +6638183888 to consult with one of our guest experience specialists about booking a room at our 5-star hotel or send us an email at rsvnmgr@ssriracha.com. We look forward to giving you a warm welcome at the place where life meetings living.