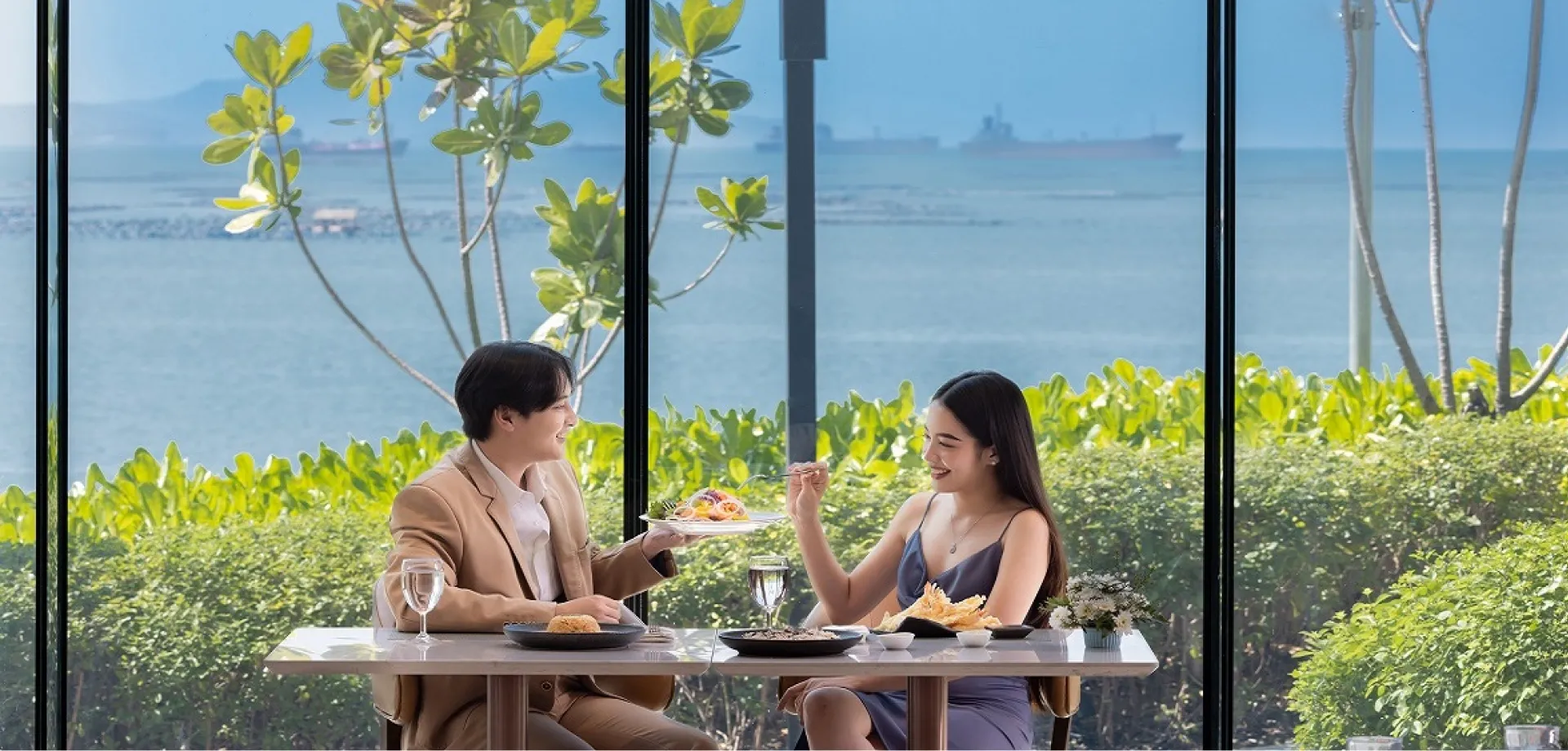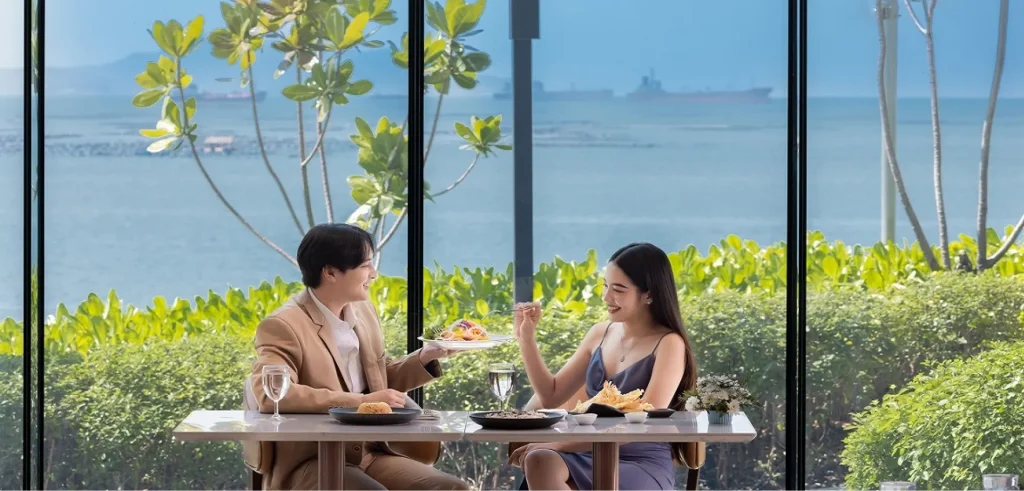 With a gorgeous view of the rolling waves as your backdrop, there is nothing quite like enjoying a meal at a restaurant in Sriracha. Picture this: your feet in the warm sand, a refreshing sea breeze in your hair, and mouth-watering fresh catches ready for your indulgence on the table. While you are in our beautiful seaside town of Sriracha, make sure to savor a meal at some of the best local dining establishments our coastal city has to offer.
S. Signature – Our Beachfront Restaurant in Sriracha
A local award-winning treasure, S. Signature is the all-day dining restaurant at our very own S. Sriracha Hotel & Residences. It is a relaxed and easygoing dining establishment with tall, crystal-clear windows that face the beach. Pulling inspiration from the golden sand of the coast, the décor within this restaurant in Sriracha features golden accents from its walls and furnishings to its cutlery, and even its signature drinks. Whether you crave local favorites or international classics, there is a spectacular range of culinary offerings at S. Signature. We take pride in cooking up an array of dishes featuring the freshest seafood catches. From large and juicy prawns to perfectly marinated and grilled sea bass, we have it all. Our talented chefs effortlessly combine local ingredients to create a symphony of exquisite flavors, resulting in an unforgettable meal with a fusion of tastes that will linger in your mind for years to come.
Location: https://maps.app.goo.gl/3yx4dFBB1bPK6w3h6
33 Seafood Restaurant
Indulge in flavorful ocean catches at 33 Seafood Restaurant. With swift and courteous service and scrumptious dishes within one's budget, it comes highly recommended by foodies and seafood enthusiasts alike. It is a charming dining establishment nestled on the shore of the serene Bang Phra region of Sriracha. Ideal for families, the restaurant offers a relaxed oceanside ambiance with mesmerizing views of the Gulf of Thailand. It is perfect for a leisurely dining experience with ocean views. Open every day from 11AM until 11PM, savor the flavors of wonderfully prepared Thai and seafood dishes at this beachside eatery.
Location: https://maps.app.goo.gl/7hFjy8wywL7SAFKs8
Hideout Beach Café & Bistro
A rustic charm meets coastal stylishness at Hideout Beach Café & Bistro. This restaurant in Sriracha is the perfect setting for an afternoon of relaxation and enjoyment. With an eclectic arrangement of seating from wooden benches to comfortable bean bags for you and your company to lounge in, you can unwind in style while capturing Instagram-worthy moments all around their aesthetically decorated eatery that features sandy neutrals which mirror the colors of the shore. These soothing hues infuse a sense of calm and tranquility just as the driftwood, rattan, and bamboo for furniture and decor adds a touch of natural authenticity to the beach-themed establishment. Making the most of its oceanfront location, the menu highlights seafood as well as Thai and international dishes. From hand-formed fish cakes with delicious herbs to delectable freshly-sliced sashimi, their offerings complement the beachy theme at affordable prices.
Location: https://maps.app.goo.gl/5KibXk7HXyQ9AJhc9
Rub Lom Chom Koh
Uplifting the coastline with its delightful presence, Rub Lom Chom Koh is a beloved seafront restaurant in Sriracha. Managed by the Coast Police, it offers stunning vistas of Koh Loy and – if you time it right – a breathtaking sunset. The restaurant takes pride in its swift and homely service, creating an inviting and laid-back atmosphere for patrons. When you dine at Rub Lom Chom Koh, you can relish in an indoor or open-air setting accompanied by live music. As it is run by the Coast Police, government ID holders can enjoy a perk in the form of a 10% discount on their meals. Specializing in Thai seafood delicacies, this eatery is renowned for its fried fish, flavorful Tom Yum soup, as well as delectable fried oysters and stir-fried scallops. It is a genuinely warm and enjoyable place to savor a meal while in Sriracha.
Location: https://maps.app.goo.gl/DjfUQiTu42kB76So7
Mum Aroi Sriracha
Anyone who knows good food in Sriracha will know that Mum Aroi Sriracha is the place to be for appetizing Thai classics and seafood specialties at a reasonable price. This restaurant in Sriracha is a favorite among locals and a must-visit spot for tourists passing through. Situated right on the beach, you can enjoy superb panoramic views of the ocean when you dine there. In fact, it is just a 10-minute stroll from our very own 5-star luxury hotel by the sea, S. Sriracha Hotel & Residence. Their grilled river prawns come highly recommended, known for their delicious meatiness and unique smoky flavor. Whether you are having them on their own, with a spicy Thai dipping sauce, or tossed in garlic and chili, each bite is worth savoring for the richness of its flavors. You can also enjoy these in their signature Tom Yum soup or with their tasty glass noodles.
Location: https://maps.app.goo.gl/k4R7YHyLUQeodHJh7