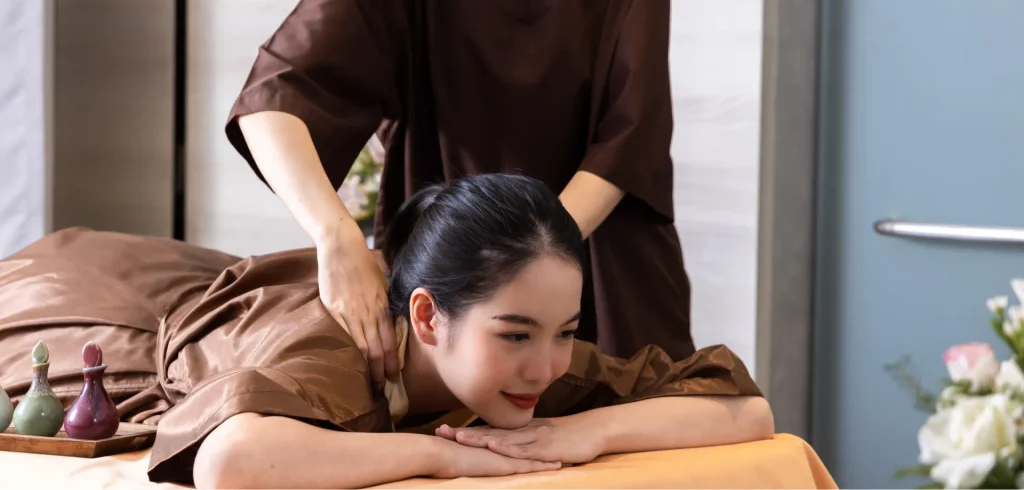 Japan has the longest life expectancy in the world according to the 2022 World Health Statistics, with Japanese people living to 84.3 years on average. This is thanks to their healthy lifestyles and quality of life, with nearly 80% of their population regularly enjoying long hot soaks in a bath, typically in an onsen — otherwise known as a natural hot spring. At the place where life meets living, we bring those benefits to our beloved clientele with our spa in Sriracha where the environment is quiet and serene with floor-to-ceiling windows that give you a beautiful view of nature to relax your senses and help ease your mind.
History of Onsen Baths
Purification and healing through the means of water has played a long role in Japanese history. It was first noted as early as 720 CE in the Nihon Shoki, otherwise known as "The Chronicles of Japan". It also plays a role in Shintoism, which is the largest religion in Japan and is practiced by nearly 80% of their population. In Shintoism, there is customary practice for worshippers to clean their hands and mouths with sanctified water. To the Japanese, water is considered a divine substance that can ward off disease and bring good fortune.
A country with almost 7,000 islands and over 200 volcanoes, hot springs — or onsen in Japanese — are scattered throughout the major cities across the beautiful nation of Japan for their population to use. The hot springs can be located indoors (called noten-buro) or outdoors (called ichiyu). These relaxing baths can be run publicly by the governing body of the community it is located in or it can be operated privately as part of a Japanese inn (referred to as a ryokan) or a humble bed and breakfast (known as minshuku).
Experience the Benefits of Japanese Onsen in Sriracha
Hayasaka Shinya is a medical doctor and professor at Tokyo City University who has extensively studied the health benefits of relaxing in an onsen for more than two decades. Well-versed in the art and its many benefits, he is one of the most credible sources for why soaking in Japanese culture is good for your health and wellbeing.
Increase Blood Circulation
Dr. Hayasaka reveals that soaking in hot water causes the arteries to relax and expand which boosts blood circulation. The enriched blood brings oxygen and nutrition to all the cells in your body and carries away the carbon dioxide and other waste. It is this boost to the circulation that is responsible for the restorative feeling you get when you soak in the bath. "As if the accumulated fatigue of the day is floating away on a cloud of steam," says Dr. Hayasaka.
Relieve Pain
The heated water from the natural springs also alleviates pain. When it warms the body, it reduces the sensitivity of its nerves which serves to soothe backache, stiff shoulders and a variety of other aches and pains caused by everyday living. The hot water also works to soften the collagen-rich ligaments that border the joints, making them more limber and relieving joint pain in the person's body.
Reduce Stress and Sleep Better
A good soak in a bath is known to relieve tense muscles and quiet the mental state. At our spa in Sriracha, the onsen room is incredibly peaceful and without noise to help empty the mind from the busyness of life. Your body also quickly cools after leaving such heated waters, which encourages the entirety of your physical form to relax, aiding in a deep sleep. 
Treat Skin Problems
In addition to the many benefits of taking an onsen bath, the bathing water also contains a number of natural elements that help improve circulation and oxygen levels in the blood. The minerals help increase blood flow and allow for better absorption of nutrients into the body. Some hot springs even contain silica which can smoothen or soften dry or textured skin. Onsen that contain sulfur have been recommended for people suffering from eczema and psoriasis, as doctors know it can aid their condition.
Relieve Your Stress with the Sauna at Our Spa in Sriracha
A sauna is commonly a wood-filled room that is heated, with temperatures inside ranging anywhere from 80°C to 100°C. At our spa in Sriracha, our sauna is made from authentic birchwood inspired by Finnish design. In Finland, using saunas are a regular part of their culture. In fact, there are 2 million saunas for the 5 million people who live there! Our sauna uses heated rocks to raise the temperature of the room. It adds humidity to the otherwise dry heat, and helps with opening up the pores of your skin and relaxing the muscles of your body.
Saunas have been a traditional part of many cultures for centuries. However, the popularity of saunas has grown over the years thanks to its many science-backed benefits. Some benefits of regular sauna use include:
Improved heart and mental health
Relief of chronic pain
Relaxation of muscles
Sauna use is safe and low risk for most people, but there are certain groups of people who should avoid them so we advise that guests consult with their medical provider first before using one.
Delight in Our Spa in Sriracha Today
Itching to rest your body after a long day? Book a room at our luxurious hotel by the sea and unwind at any of our exclusive facilities. Reach out to us at info@ssriracha.com or +6638183888 and take in the marvelous Gulf of Thailand from our ocean-facing rooms.