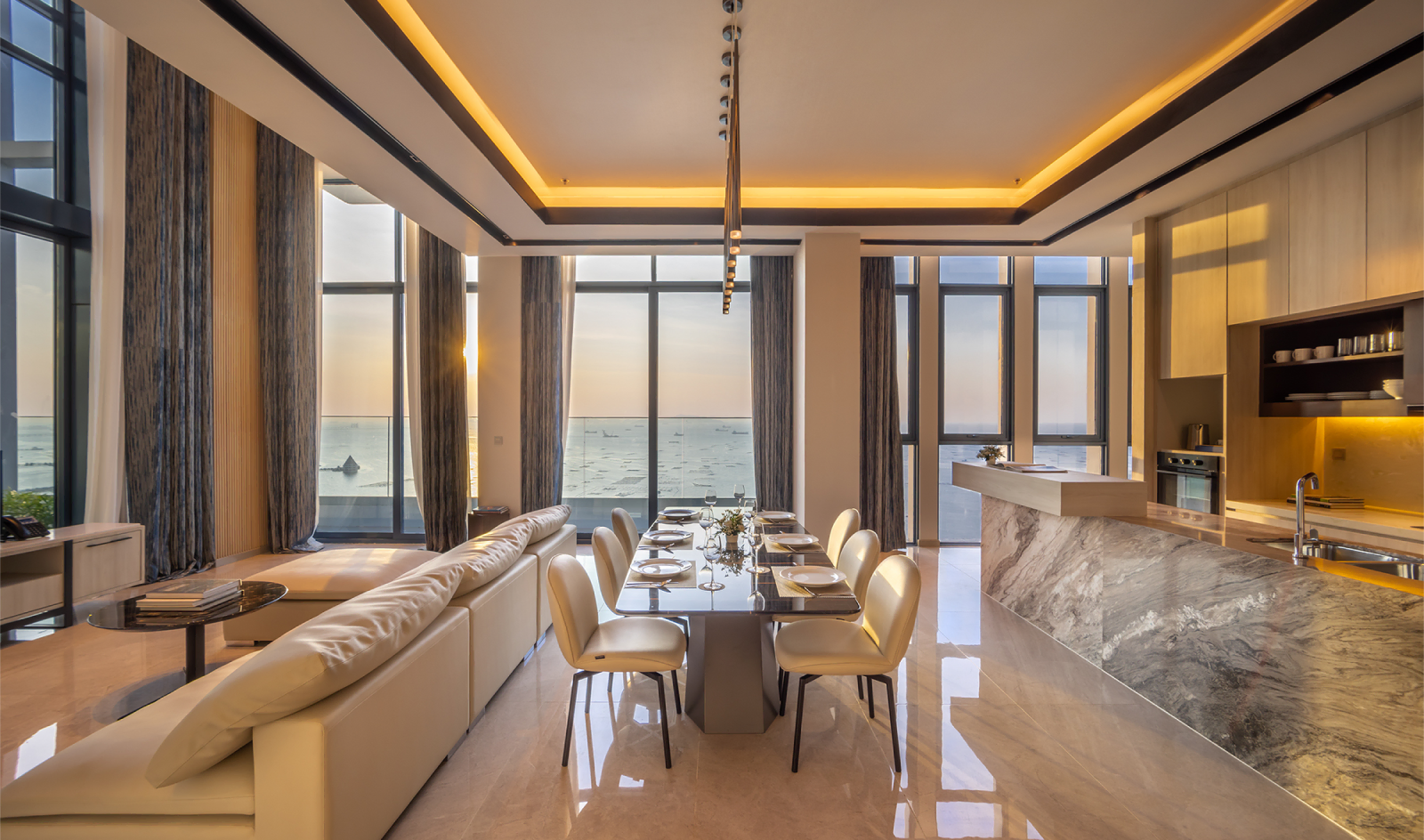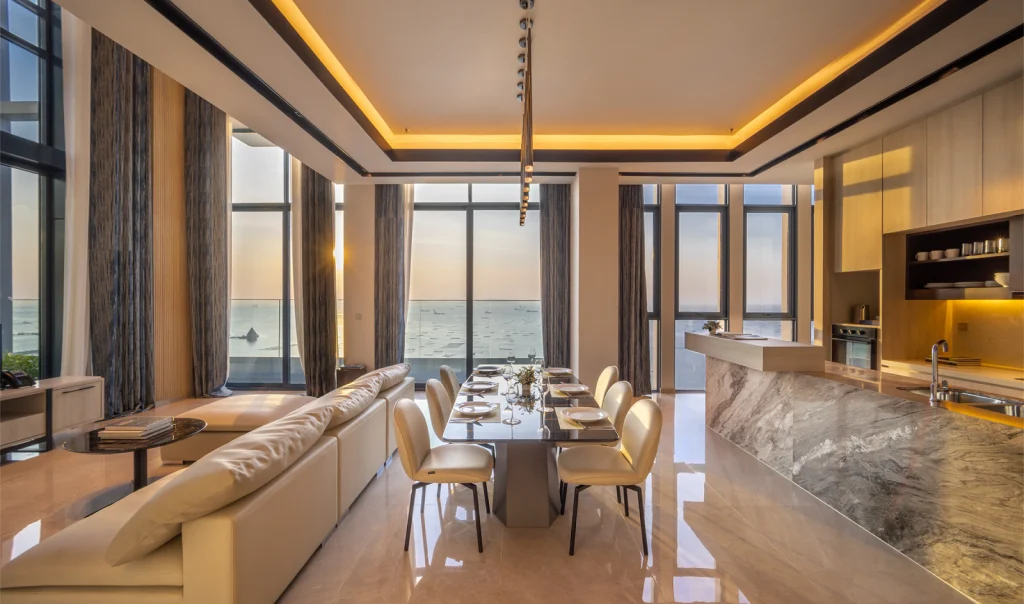 Where community meets freedom, where leisure meets business, where dining meets art, where serenity meets adventure, where elegance meets simplicity, where tradition meets trend — and everything in between.
The first of its kind, the S. Sriracha Hotel & Residence is the beginning of a hospitality journey that will set a new and innovative standard in the upcoming chapters of properties under the S. Sriracha Hotel and Residence brand. The S. Sriracha Hotel & Residence will explore the idea: Where Life Meets Living. Guests and visitors nationwide and worldwide can expect an unparalleled experience at our 5-star hotel in Sriracha, which is committed to embracing all aspects of living in one vast space. 
Accommodations and Room Types Within Our Modern Paradise
S. Sriracha Hotel & Residence is the ideal place of accommodation for all-purpose lifestyles. We cater to various groups of visitors. So, whether you only plan to stay for a short while at our 5-star hotel in Sriracha or become a long-stay guest at our serviced residence, there is a place in S. Sriracha Hotel carved just for you. Enjoy the warm sun and white sand of the dazzling seaside from the comfort of our state-of-the-art property that boasts 185 oceanfront rooms & suites with a touch of Japanese sensibility.
Deluxe Room
Stunning views of the azure sea in the comfort of modern facilities? Yes, please. Our starting accommodation is the Deluxe Room. It is the ideal living unit whether you are staying with us on your own or with a companion. Stylishly furnished and functional in design, the warm colors of this room type provide a luxurious experience as you bask in the comfort of our cozy space. It is inclusive of a spacious bathroom, a hairdryer, a large refrigerator, a washing machine with a built-in dryer, a microwave, a kettle, an induction stove and range hood, an iron with an ironing board, and chinaware.
One Bedroom Suite
True to our promise of creating the ideal space that fosters living in the best possible fashion, the One Bedroom Suite in our 5-star hotel in Sriracha offers more space for our guests to utilize. This room type features a living area with a flat screen TV and a balcony overlooking the sea. Right beside this section of the suite, a dedicated kitchen space is located. Like our previous room type, it features everything from a refrigerator to store your food and a washing machine with drying capabilities for your laundry needs.
Two Bedroom Suite
Driven by our adage of being the place where life meets living, the Two-Bedroom Suite at S. Sriracha Hotel & Residence provides functionality and comfort. A corner unit with a great view, it has a master bedroom with a king-sized bed and a guest bedroom with single beds and a stunning view of the mountain range. This room also has a co-dining space fit for four individuals and an open-design living area that opens onto the balcony with gorgeous views of the calming blue waves of the Gulf of Thailand.
Two Bedroom Executive Suite
Functional and vast, the Two-Bedroom Executive Suite is a beautiful open-design room type within our 5-star hotel in Sriracha. Lavish and functional, this contemporary space has no shortage of discreet storage space for all of your belongings. Tuck them away neatly and experience a serene state of mind at the sight of no clutter. This suite also features a dedicated kitchen space with a single induction burner, a microwave, a sink, a kettle, a large fridge, and a washing machine with a built-in dryer as per our previous room types. We spare no luxury in this purposeful and contemporary space where your lifestyle will thrive.
Family Suite (Connecting Rooms)
Whether you are travelling with family or a big group of friends, our Sriracha residence has a place for you. Our Family Suite comprises of two rooms — a 33sqm room and a 46sqm room — with connecting capabilities. This suite also boasts two different bed types (single or twin) for your upmost convenience. All of our pristine living units are also inclusive of a comfortable bathtub, an intimate pantry, and golf equipment storage units for those who love to hit the green with their finest nine-iron.
Penthouse
Featuring wonderfully tall ceilings and exquisite marble wherever you look, the Penthouse duplex of our 5-star hotel in Sriracha is decorated lavishly and spares no expense when it comes to creature comforts. The furniture within this space is stylish and chic. Crystal chandeliers adorn its ceilings. The dining area boasts a large dining table fit for up to eight individuals. The kitchen area is not only inclusive of the culinary amenities featured in other room types but also has an oven for your baking needs. Contemporary and extravagant, the space that provides a sense of uncompromised luxury to whoever it is housing. 
Enjoy a Stay at Our 5-Star Hotel in Sriracha
Curious to experience where life meets living? Reach out to us at rsvnmgr@ssriracha.com or +6638183888 to book a room at our contemporary oasis with breathtaking views of the ocean and sandy white shores. Awaken to nature's magnificence every day at S. Sriracha Hotel & Residence — a marvel of ultramodern living and seaside luxury.