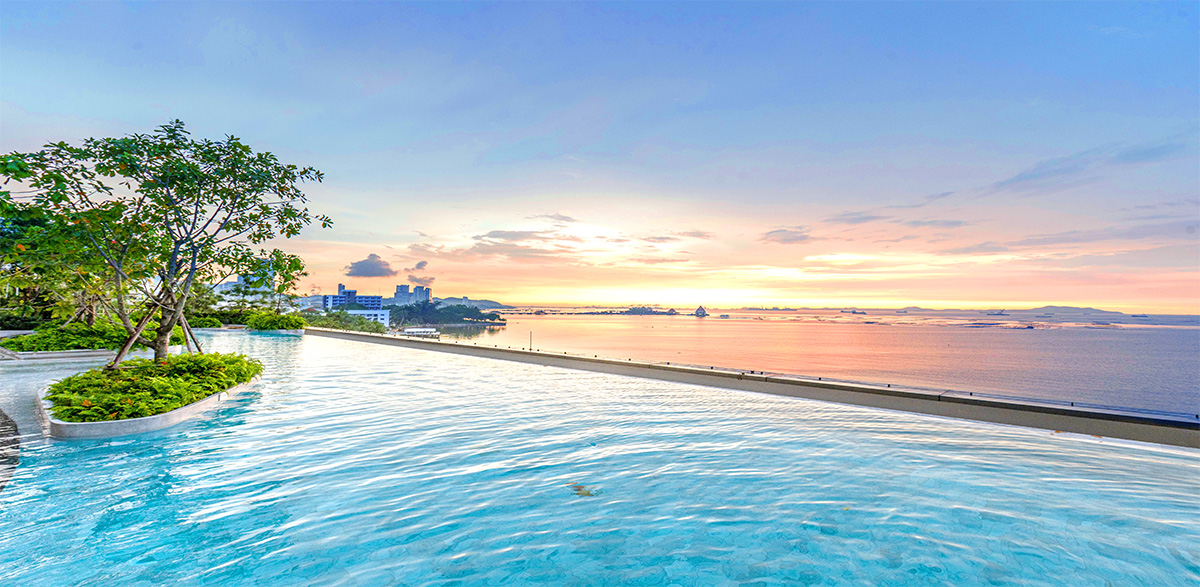 At S. Sriracha Hotel & Residence, we aim to be distinctive among our peers. We achieve that by incorporating a unique blend of cultures into our service style and the design of our sriracha hotel. We pull heavy influence from Japanese culture in the functionality and minimalism of our sleek property. Paired with the humility of Thai service, a modern oasis by the sea is born. Our Sriracha residence — where life meets living — is an innovative haven for travelers of all kinds.In line with Japanese sensibility, thought was put into every aspect of our lofty ocean paradise. Everything from the architectural structure to the interior design, and even the hotel's name, was selected only after much consideration. People often ask: What does the S stand for? It is a curiosity we are delighted to satisfy when we happen across it. Allow us to share the unique lore behind the name we carry and hope to nestle fondly in the minds of our most loyal patrons.
Spirit
The 'S' in our name stands for many things. Though firstly, it stands for Spirit. The spirit of our hotel embraces the idea of living, as well as the Japanese way of life. In that belief, the structure and design of our Sriracha residence was born. Like quaint Japanese homes, our spaces are crafted not only to be functional but subtle and cozy. With plenty of storage to hide away personal belongings, your space is left clean and it empties the mind to create a state of serenity within your center. In true Japanese fashion, all of our living units also include a washlet, a pantry, and a storage space meant for golf equipment for lovers of the game. In the name of the culture whose style of service we emanate, everything you own has a dedicated space.
Sustainability
Fully committed to the awareness of the natural elements that surround us, the 'S' in our name also stands for Sustainability. Our Sriracha residence was constructed with an eco-conscious mind. One of many noble features highlights the 3-layer insulated glass windows used throughout all units of our property. Not only does it keep out noise for the comfort and privacy of our guests, but just as importantly, this material bounces sunlight away from the building to maintain a cool interior and reduce energy consumption. In our eco-minded approach, our focus is to adapt to the natural state of Sriracha. In the name of Thai and Japanese culture, we deeply respect the environment we are in. In a world where values matter, we combine what we care about while enhancing the experience of our guests.
Senses
Not only do our staff wholeheartedly look after the guests of our Sriracha residence, but we aspire to create an environment that helps them unwind and remove the aches of everyday living. The 'S' in our name also stands for Senses. At our Sriracha residence, we house an onsen to help achieve this for our patrons. Popular in Japan, an onsen is considered the ultimate bathing experience. The word translates to mean 'hot spring' in Japanese. These baths are rich in natural minerals that are beneficial for the body. Sincere in our desire to provide our guests with a true getaway, it is our signature way to encourage a state of relaxation in the minds of our visitors. Relieve your senses in every way and settle into the hot, mineral-rich baths on our property.
Space
Striving to redefine what it means to indulge in a getaway, our serene Sriracha residence is designed to give our patrons a holistic experience. The 'S' in our name also stands for Space. Everything from our signature scent that greets you once you step through our threshold to the way our building faces, it is an intentional blend of experiences to keep the sun, sky, sea, and sand in mind. At S. Sriracha Hotel & Residence, we are the horizon where all of these natural elements unite.
Nothing is more powerful than your sense of smell when it comes to unlocking past memories in vivid clarity. Our signature aroma is crafted to be distinctive so that it imprints all of your most fond moments at our contemporary paradise by the sea to mind. With a simple whiff of our inimitable scent, the state of serenity you experienced on our holistic property can come back to you in a flash and give you a sense of peace.
Another intentional choice in our design is that all of our living units are facing towards the Gulf of Thailand's endless horizon. There's nothing quite like awakening to a gorgeous view of the rich azure sea each day. Additionally, each guest room and all of our public spaces have embraced the distinguished color combination that represents S. Sriracha Hotel & Residence and its seaside atmosphere: the warm gold of the sun, the soft taupe of the sand, and the rich blue of the sea. Find these beautiful colors from nature surrounding you in our tranquil beachfront oasis.
Indulge In a Getaway at Our Sriracha Residence
Revel in the thoughtful design that went into our 5-star hotel in sriracha firsthand. Experience true relaxation within the walls of our Sriracha resort by reaching out to rsvnmgr@ssriracha.com or dialing +6638183888 to engage in a conversation with one of our guest experience professionals about your booking. Enjoy the signature Thai-Japanese service we offer before you even step onto our property. We look forward to welcoming you at S. Sriracha Hotel & Residence, where life meets living.