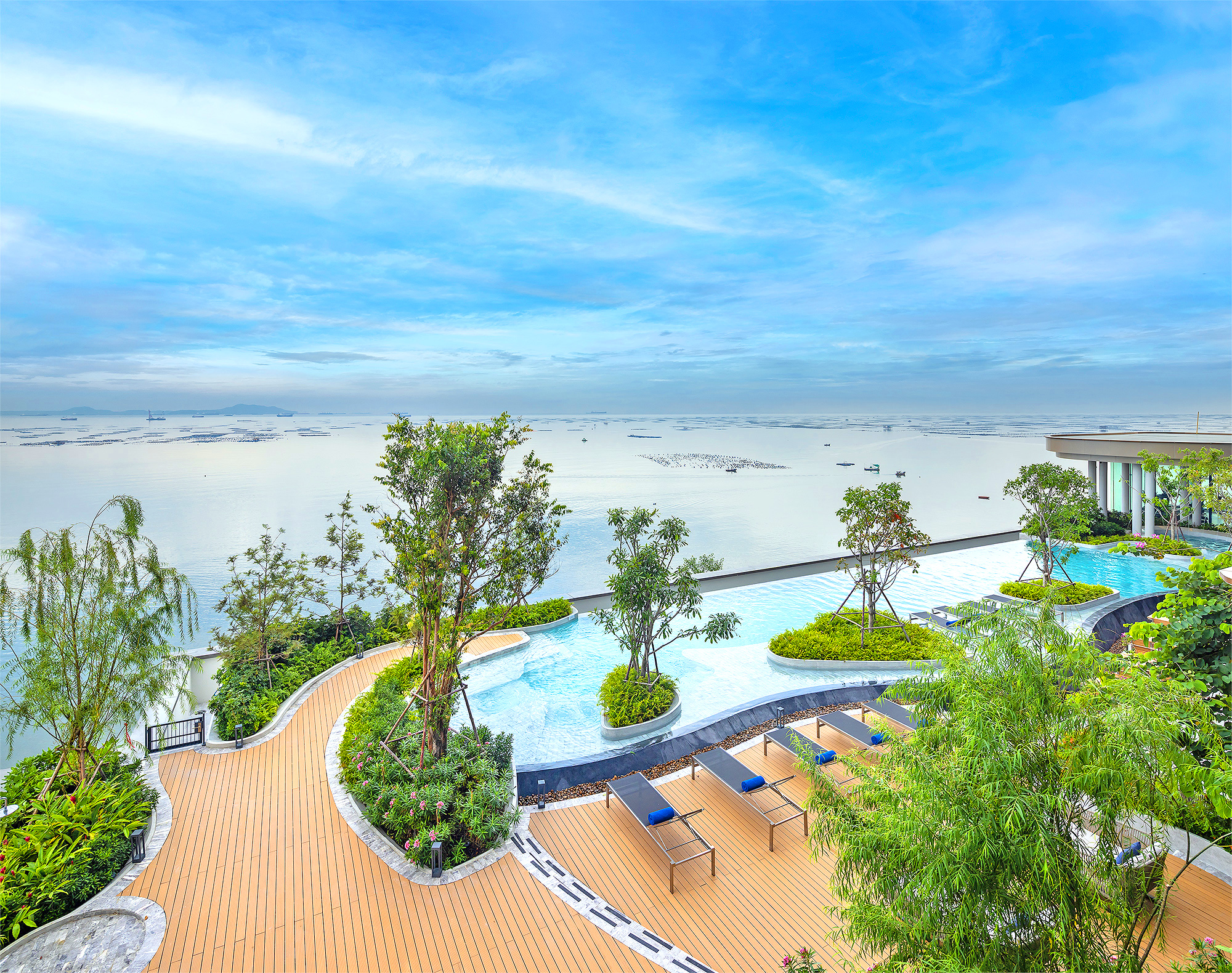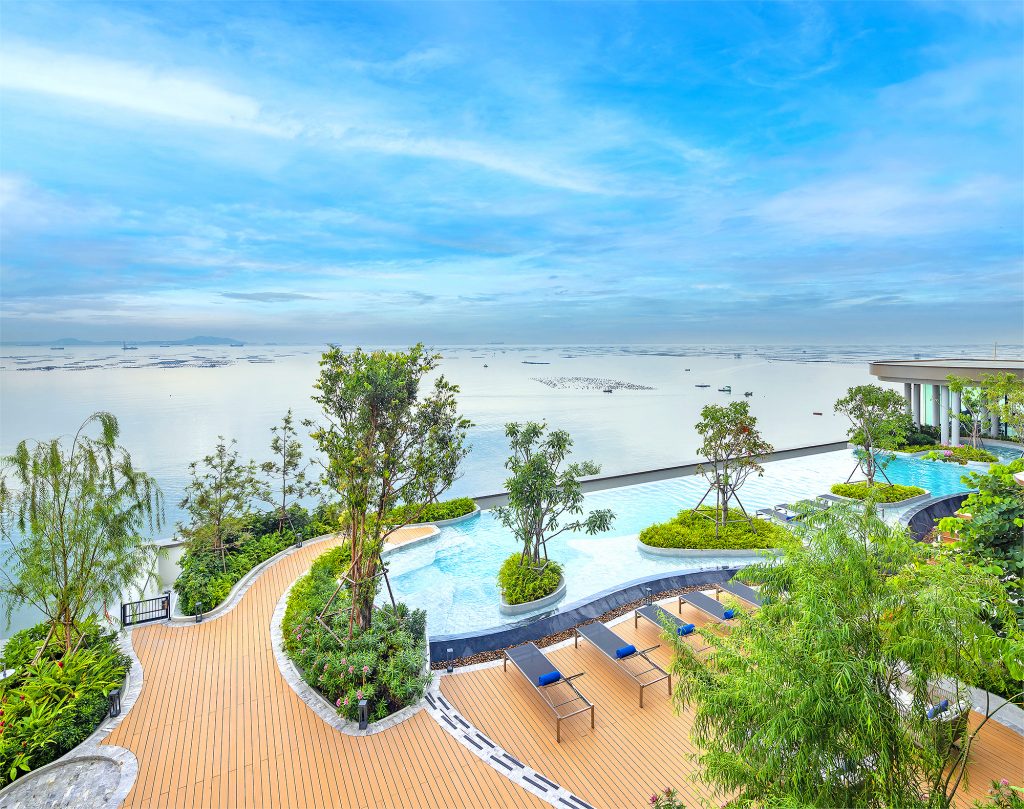 Experience total relaxation at our Sriracha hotel where life meets living. S. Sriracha Hotel & Residence is one of the most luxurious oceanfront escapes in the coastal town of Sriracha. From thoughtfully designed accommodations to having a range of dining and leisure facilities, our chic beachfront escape provides you with everything and more. Not only do we have a variety of services and amenities to make it so that everything you need is all in one place, we are centrally located in Sriracha and are close by to all of the best attractions to see. Continue reading to discover more about the convenience and indulgence our hotel brings right to you.
Delight in Flavorful Creations at S. Signature
A local-award winning treasure, S. Signature is the all-day dining establishment at our Sriracha hotel. Located on the Lobby floor, it is easily accessed by guests and visitors alike. Offering international cuisine from as early as 5AM as a nod to the early rise times of our guests, your dining experience at our restaurant will be one you don't forget. We specialize in taking local ingredients and giving them a unique twist.
Thoughtfully designed, the interior and decorations found at S. Signature is inspired by the golden sands of our coast. Be amazed as you find gold accents throughout our restaurant, from the walls and the finishes to the cutlery and seat cushions, and even in the color of our signature drinks and cocktails.
Enjoy a Refreshing Afternoon Drink at our Pool Bar
Situated on the third floor of our Sriracha hotel, you will not only find our elegant infinity swimming pool that overlooks the beautiful Gulf of Thailand but you will also discover the Skyline Pool Bar. Our pool bar is a popular location amongst our guests. Just steps away from the pool itself, you can find a delectable selection of light snacks and mouthwatering cocktails available here. Its offerings are perfect for satisfying your cravings and cooling you down during a perfectly warm afternoon soaking in the sun. Drawing inspiration from the line where the sky meets the sea, all of the beverages from our Skyline Pool Bar are made distinct by the color blue. From the Blue Pina Colada to our Skyline Mojito, we highly recommend you try one of our fantastical creations the next time you're taking a dip in our pool.
Feel Revitalized After a Workout at Horizon Fitness
While you're on the third floor, be sure to visit our state-of-the-art gym, Horizon Fitness. Made unique by its curved glass window that provides stunning 180-degree views of the ocean, experience exercise like never before with such breathtaking vistas at your disposal. At S. Sriracha Hotel & Residence, a simple workout transforms into an extraordinary occurrence, elevated by the awe-inspiring backdrop that accompanies every movement. Whether you're getting in your daily cardio, lifting weights, or practicing yoga, the visual delight of the ocean's deep blue merging with the sky's hues adds a touch of serenity and motivation to your fitness regime.
Relax Your Muscles at The Onsen in Our Sriracha Hotel
After a reinvigorating workout at our gym, find your way to the onsen of our Sriracha hotel. As an homage to the Japanese influences that we have woven throughout our hotel, we proudly offer the tradition of soaking in warm waters to ease the tension of your muscles and promote a state of relaxation. Enjoy delightful views of nature while you unwind and become rejuvenated by the healing powers of water. Embrace the atmosphere of tranquility our space curates and let the worries of the day melt away, replaced by a renewed sense of calm.
Indulge In the Many Offerings at Central Si Racha
Under a 10-minute walk from our Sriracha hotel is Central Si Racha mall. It is not only a prominent shopping center but a lifestyle destination for those who live in our beachside city, providing people in Sriracha with a center point to experience the town's commercial and social life. Central Si Racha offers a comprehensive shopping experience with 6 floors worth of retail outlets, dining options, places of entertainment and more. The range of stores within Central Si Racha is highly diverse, featuring not only popular international brands from around the globe that you might miss but also local brands that are waiting to be explored and adored.
Experience The Ultimate Choice for The Perfect Stay in Sriracha
Connect with our Guest Experience team at rsvnmgr@ssriracha.com or +66 38 183 888 to book a stay at our Sriracha hotel, where modern elegance and functional spaces come together to become a masterpiece of contemporary design. With all of our rooms having ocean-facing views, relish in the beauty of the Sriracha's nature with each morning and night.